Today I went to my friend house for a fabulous Thanksgiving dinner. She creates all the dishes she would have if she was at home and hence I'm now feeling very full, sleepy and on a sugar high! She said she'll let me have the recipes so I'll give them a try and post the results!
I might not see her again before Christmas so took along a hamper full of goodies I had made.
From top right going clockwise there is a lemon crunchy top cake, a bag of candied citrus peel, a mulled spice bag to make mulled wine, apple butter and double chocolate chip cookies.
The recipe for the lemon cake can be found
here
The recipe for the candied citrus peel is
here
I dusted them all in caster sugar before putting them in a Lakeland gift bag and tying with a ribbon.
For the mulled spice bag I simply tied a couple of sticks of cinnamon, some dried orange rind, 5 juniper berries, 10 cloves, 5 cardamom, 2 bay leaves and 10 black peppercorns in a square of muslin and attached instructions to place it in a pan with 75cl of red wine and sugar to taste and then gently heat the wine without letting it boil.
The apple butter recipe is
here
and I just decorated the jar with a square if brown paper and a ribbon.
Finally the double chocolate cookies I have written two posts about before
here
and in my first ever
post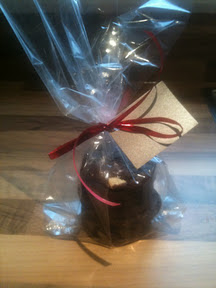 #letsmakechristmas