This is a very difficult post to write. I've been a bit quiet over the past two weeks as my lovely nan unfortunately passed away. She was 90 years old and had enjoyed a very good life but it was still a shock and from a selfish point of view We would've all liked to have her around for a bit longer.
Here is a photo of her when she was younger.
Her funeral was yesterday so mum and I got cooking and baking so we could put on a little afternoon tea for everyone to come back to. We tried to pick some of nan's favourite things.
Unfortunately in all the hurry I forgot to take a photo of everything laid out on the table but we made the following:
Savoury Morsels
- tuna mayonnaise and cucumber finger sandwiches
- open mini ham and tomato sandwiches
- open mini chicken pesto sandwiches (dice some roasted chicken and mix with a little mayonnaise, pesto, diced red pepper, lemon juice and salt and pepper and place a spoonful on a small disc of baguette)
- Mini cheese and tomato quiches (see recipe below)
- Olives
- Vegetable crisps
- Cheese board, crackers and grapes
Sweet Treats
- Victoria Sponge (see this
post
for the recipe I use for vanilla sponge and then sandwich with a good raspberry jam and vanilla butter cream and finish with a dusting of icing sugar)
- Marble cake cupcakes with white chocolate icing (made by my fabulous friend @hollyking84 using this
recipe
but topped with white chocolate butter cream coloured with a little food colouring instead of dark chocolate buttercream)
- Mini lemon meringue pies (see recipe below)
Photos
The finished cheese and tomato quiches
The Victoria sponge sliced ready for eating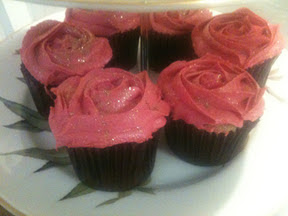 @hollyking84's beautiful cupcakes
Mini lemon meringue pies
Recipes
Cheese and Tomato Mini Quiches
One packet of puff pastry
18 Cherry Tomatoes
300g grated cheese (I use half mature cheddar cheese and half Lancashire cheese)
3 eggs
4 tbsps Crème Fraiche
½ tsp each of salt, pepper and dried oregano
A few sprigs of basil
Makes 12 quiches
Preheat the oven to 220C/425F/Gas Mark 7
1. Set aside 6 cherry tomatoes and 12 small basil leaves.
2. Place the remaining cherry tomatoes in a bowl or jug, prick each one with a knife and cover in boiling water. This will loosen the skins. After a few mins pour away the water and peel all of the skins off the tomatoes. Cut them all into quarters.
3. Chop the remaining basil into fine slithers and the remaining tomatoes in half.
4. Beat the eggs, stir in the grated cheese, crème fraiche, salt, pepper, oregano and remaining basil.
5. Roll out the pastry on a floured surface until it is quite thin. Cut 12 circles out and place each into a greased muffin tin, pressing it into the sides (I always use a pint glass to cut out the circles).
6. Place 4 quarters of tomatoes into each pastry case and then pour the mixture on top onto each one.
7. Place half a tomato onto each and a basil leaf.
8. Place in the oven and bake for 5 mins. Then reduce the temperature to 200C and bake for a further 10-15 mins until golden.
9. Remove from the oven. Allow to cool for a few minutes and then remove each of them from the tin and allow to cool completely on a wire rack.
Lemon Meringue Pies
For the pastry:
260g plain flour
40g icing sugar
185g cold unsalted butter
1 egg yolk
2 teaspoons of cold water
For the meringue:
3 egg whites
165g caster sugar
For the lemon curd:
3 egg yolks
110g caster sugar
Zest and juice of one lemon
90g cold unsalted butter
1. Start by making the lemon curd by whisking the egg yolks with the caster sugar in a heatproof bowl until light and fluffy. Whisk in the lemon zest and juice.
2. Place the bowl over a pan of simmering water and continue stirring until the mixture thickens and coats the back of a spoon (approx 12 mins).
3. Remove from the heat and gradually whisk in the cold butter.
4. Whilst the lemon curd cools make the pastry. I used the crumb method, but you can also do it by pulsing the butter, flour and icing sugar in a food processor until crumbly and then whilst the motor is still running add the egg yolk and enough water to make the pastry come together. Chill the pastry in the fridge for about 30 mins. Preheat the oven to 200C
5. Roll out the pastry and cut out 12 rounds into a greased muffin tin. Blind bake for about 12 minutes.
6. Remove the pastry cases from the tin and leave to cool for 5 mins.
7. Beat the egg whites until they form stiff peaks, add the caster sugar one teaspoon ensuring it is fully incorporated in between each addition.
8. Increase the oven temperature to 220C
9. Divide the lemon curd between the cases and pipe with a swirl of meringue. Bake for 2 minutes and cool on a wire rack.
In memory of my wonderful nan who had given me so many times to remember. Ada Buxton 16.12.1920 - 25.10.2011