Let's Make Christmas!
Today I'm taking part in the Food Bloggers Gift Swap, arranged by @vanessakimbell and judged by @dan_lepard, as part of 'Let's Make Christmas'.
See here for full details http://writingacookerybook.blogspot.com/2011/10/lets-make-christmas-food-blogger-gift.html. Basically the concept is that instead of buying things for people for Christmas we surprise them with lovely homemade gifts. With my friends and family it won't be so much of a surprise as I make some of my gifts most years, but they seem to appreciate them and I'm always on the lookout for new ideas!
I was even more excited when Let's Make Christmas was extended to become an event held at Fortum and Manson where food bloggers could meet and swap their gifts, with the added twist of a dose of healthy competition. It will be wonderful to meet people I've spoken to online and over twitter and also new people too.
We are all allowed to enter up to three categories. I decided to enter an individual Christmas pudding in the baking category. It is a lovely Peyton and Byrne recipe that I'm very pleased with. I put it with a small bottle of brandy for flaming the pudding to serve it.
Here is a photo of it all wrapped up. I buy the plastic gift bags from Lakeland and the ribbon was from an online ribbon shop, I'll try and dig out the details of the website and add them to the post.
For the preserves category I have made a lovely piccalilli. It's one of my favourites, and this recipe is especially good. The veg are also nice as pickles before you add the spicy mustard sauce.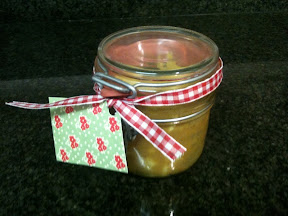 In the final category of sweets I made some little chocolate wafers. The white chocolate ones are flavoured with rose water and topped with crystallised rose petals and the dark chocolate ones are topped with some homemade candied orange peel, although you could top them with any of your favourite accompaniments.
And here they are all together. I just have to hope they make it all the way to Fortum and Mason in one piece!
Here are all of the recipes in case you'd like to give any of these a go #letsmakechristmas!
Christmas Pudding
200g raisins
150g currants
100g flaked almonds
75g dried chopped apricots
75g dates chopped
1 large cooking apple, peeled, cored and grated
1 medium carrot grated
1400g suet
140g plain flour
140g demerara sugar
75g fresh breadcrumbs
2 beaten eggs
4tbsps stout
Juice and zest of one orange
Juice and zest of one lemon
2tbsp brandy
1tsp salt
1/2 tsp cinnamon
This recipe makes 1 large and 4 small Christmas puddings. The recipe could be reduced, but they are lovely to give as gifts (and you also need to keep one for yourself!). It's best to make this recipe approximately 3 months before Christmas.
1. Place the dried fruit and all of the liquid (apart from the eggs) in a bowl and soak overnight.
2. Add the remainder of the ingredients and place in well greased pudding bowls. Cover the top of the mixture with a small circle of baking paper, and then cover the whole of the top of the bowl with two layers of foil, securing with string.
3. Place the basins in a saucepan on a trivet, or a scrunched up piece of foil, and fill the pan approx. half full with boiling water.
4. Place on the heat, bring to the boil and then turn down to a gentle simmer and put the lid on.
5. Once you think it is cooked, check by carefully unwrapping the pudding and inserting a skewer. If it comes out clean it is cooked. The small puddings take about 3 hours and the large 4.5 hours.
6. Once cooked, put clean baking paper and foil on the pudding and leave to cool. Once a month carefully peel back the cover and 'feed' with a splash of brandy. Store in the fridge or a cool dark place until Christmas.
7. To reheat, repeat the steaming process but for 2 hours this time (approx. 1 hour for the small puddings). Turn out the pudding onto a serving dish, sprinkle with sugar and top with a sprig of holly. Pour over some brandy and set alight. Serve with brandy butter.
Here is the mixture ready to put in the basins
Here they are in the basin
And here they are steaming
Recipe adapted from 'British Baking' Peyton and Byrne.
Piccalilli
225g salt
2.25 litres boiling water
1 medium cauliflower (about 450g of small florets)
225g small pickling onions, peeled and halved
225g runner beans, topped and tailed and cut diagonally into 2.5cm pieces
¼ large cucumber, halved lengthways, seeds removed and then into 1cm chunks
110g courgettes, topped and tailed and cut into 1cm chunks
About half a jar of small gherkins
135g caster sugar
750ml distilled malt vinegar, plus an extra 5 tbsp
1 cloves garlic, crushed
¼ tsp whole nutmeg, grated
¼ tsp ground allspice
25g plain flour
12g mustard powder
12g turmeric powder
7g ground ginger
¼ tsp cayenne pepper
Piccalilli is a traditional British preserve. It is well worth making as in my opinion it is far superior to any that can be bought in a supermarket. It is best served with cooked meats and cheese, for example on a buffet or in sandwiches.
1. Mix the salt with the boiling water. Leave to cool, divide between two large bowls and add the cauliflower and onions to one bowl and the runner beans, cucumber and courgettes to the other. Cover with a plate to keep the vegetables submerged and leave for 12-24 hours.
2. Drain the vegetables and rinse them well, still keeping them separate.
3. Put the sugar, garlic and 750ml of vinegar into a large pan. Bring to the boil, add the cauliflower, onions, allspice and nutmeg and cook for just two minutes. Add the beans and the cucumber and cook for a further 3-4 minutes. The vegetables only want to be just cooked, with still a little crunch left in them. Sieve into a large bowl saving the liquid and set aside.
4. Mix the flour, mustard, turmeric and ginger powder with the rest of the vinegar and enough water to make a smooth paste. Add a little of the hot vinegar mixture, stir into the rest left in the pan and bring to the boil, stirring. Simmer for 10 minutes.
5. Stir the sauce into the vegetables and the gherkins. Spoon into warm sterilised jars and seal with vinegar proof lids. This will make 5-6 jars.
Here is a photo of the veg cooking so you can see the sizes I cut it all into
Here is the mustard mixture made from good old Colman's
And the finished product before it was decorated.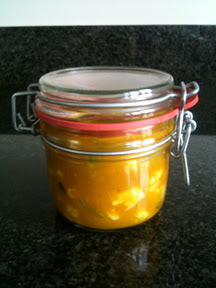 Recipe adapted from 'Food Heroes' Rick Stein.
Little Wafers – White Chocolate with Rose – Dark Chocolate with Orange
100g organic dark chocolate (70%)
100g organic white chocolate
1 tbsp crystallised rose petals
A couple of strips of candied orange peel (see below for recipe)
A few drops of rose water
This is an easy recipe, but looks very effective. You can always buy the candied peel, but the homemade version is delicious (see recipe below). The chocolates are also lovely with chopped nuts, dried fruit or toffee.
1. For the wafers, melt the chocolate in two separate bowls. To ensure you get a shiny finish, it is best to temper the chocolate. Stir the rose water into the melted white chocolate.
2. Take a large piece of baking parchment and draw circles on it as a guide (a milk bottle top is a good size). Turn over the parchment so the ink doesn't go onto the chocolate.
3. Take about half a spoonful of chocolate and carefully use the back of the spoon to fill the circles you have drawn.
4. Whilst the chocolate is still wet sprinkle the dark with chopped candied peel, and the white with the chopped, crystallised rose petals.
5. Allow to cool thoroughly, and present them in a pretty box tied with a ribbon.
Candied Orange Peel:
2 medium oranges
200g caster sugar
1 tsp vanilla extract
¼ tsp black peppercorns, lightly crushed
4 cardamom pods, lightly crushed
1. Using a small knife, score the orange skin into quarters and carefully remove the peel from the orange.
2. Cut each quarter into strips of approx. 1cm wide. Place the fruit to one side to use for something else
3. Place the strips in a sauce pan, and cover with cold water. Bring to the boil and simmer for 2-3 minutes. Drain through a colander and repeat twice more with clean water to remove any bitterness from the peel.
4. Wash and dry the saucepan. Place the sugar and 200ml water in the pan with the pepper and cardamom. Bring slowly to the boil, stirring occasionally. Add the blanched orange peel and cook for 2-3hrs on a very gentle simmer, until the peel is very tender and translucent.
5. Use tongs to remove the peel from the syrup, draining off any excess and place on a large piece of baking parchment in a single layer. Leave the peel to dry and crystallise. This can take 2-3 days. You will only need a couple of strips for the chocolate wafers, so you can pop the rest in a clear gift bag as a separate gift. This recipe can easily be doubled or made with other citrus peel, such as lemon or grapefruit. The syrup can also be put into a small sterilised jar and used for adding to coffee, cocktails, fruit salads or cakes.
Here is a photo of the peel cooling. I used a mixture of orange, lemon and lime.
And one of the syrup in a jar to keep
Recipe adapted from 'Gifts from the Kitchen' Anne Rigg.