For the first year (I think ever) we didn't have turkey for our christmas dinner. We bought a beautiful joint of sirloin fore-rib of beef to have with a parsnip, shallot and sausage mixture, roast potatoes, green veg and red cabbage.
For the beef we placed a few roughly chopped carrots, onions, celery and garlic in the bottom of a roasting tin and then placed the seasoned beef on top with a good slug of olive oil. To roast it we put it in the oven at 230C for 20 mins before turning it down to 180C for 18 mins for every 500g. This resulted in roast beef which was medium rare. Once it was down we took it out of the roasting tin and wrapped it in foil and covered it in tea towels to rest.
To make the gravy take the roasting tin with the veg and the meat juices in and carefully spoon off most of the fat and discard or put to one side for beef dripping. Put the whole tin on the hob, stir in a couple of spoonfuls of flour and get it nice and hot before pouring in a large glass of red wine. Now use a potato masher to mush all of the veg up scraping all of the yummy goodness from the bottom of the pan as you do. Add some boiling water to thin the stock to the right consistency and simmer for about 5 mins. To finish sieve out all of the vegetables and other lumps and you'll be left with a yummy gravy. Check the seasoning and add salt and pepper to taste. This is probably vaguely a Jamie Oliver recipe.
Whilst the meat is cooking thinly slice half a red cabbage and half an onion. Place it in a pan with a grated apple, two teaspoons of sugar a tablespoon of balsamic vinegar, seasoning and a stick of cinnamon. Cook on a medium to low heat for about an hour until it is nice and soft. This is a recipe I have been given by my mum, which we have been making for years (it originally used malt vinegar but I tend to use balsamic vinegar now).
For the potatoes we used Jamie Oliver's
perfect roast potatoes
and had garlic, rosemary and red wine vinegar as our chosen flavour combination. They really are great roast potatoes.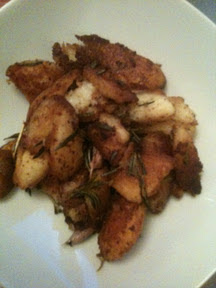 For the shallot, parsnip and sausage mix we took 8 good quality sausages (ours were from a local farm) and twisted each in the middle and cut to make 2 mini sausages. We placed these in the bottom of a roasting tin along with halved parsnips, shallots and sprigs of rosemary and then poured over a mixture of 1 tbsp of balsamic vinegar, 1 tbsp of olive oil, 1 tbsp of
sweet chilli jam
and 2 tbsps of maple syrup and then roasted at 180C for 45 mins, turning every so often. This was adapted from Waitrose Kitchen magazine.
We served all of this with a bowl of mixed greens including some tendersteam broccoli and sugar snap peas. Overall it was a great dinner even if there was no turkey!