Unfortunately I can't take the credit for this one, but it was a bit of a gem so I wanted to write a post on it anyway. So this is a guest post made by my mum. Last week was my dad's birthday and my mum made a lovely meal of butternut squash soup with a swirl of pesto oil, roasted quail with apples and this lovely cake/dessert.
It is a Diana Henry recipe, but from the Waitrose Kitchen magazine not from one of her lovely books.
It's very simple and a similar method to the flourless chocolate orange cake in my previous
post
This also means it is gluten free so great for any allergy suffers.
Boil 5 unpeeled clementines in water for about 1.5 hours until they are totally soft. Whizz them in a food processor (skin and all). Allow to cool slightly and blend in 6 beaten eggs, 225g light brown soft sugar, 250g ground almonds, 1tsp baking powder and the finely crushed seeds of 8 cardamom pods. When fully incorporated pour the batter into a lined and greased 20cm round cake tin and bake for about 50mins in a oven preheated to 180C/gas mark 4. Cool in the tin. She suggest pouring over a glacé icing made with 150g icing sugar and 2tbsp clementine juice and 1/2tsp of orange blossom water and then pour over the top and allow it to drip down the sides. We simply dusted with icing sugar.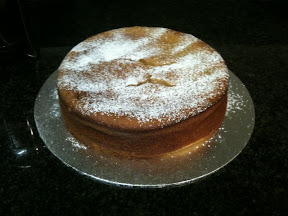 This would make a perfect festive treat due to the clementines and spice.