So the lovely people at Hotel Chocolat sent me some goodies from their Christmas selection and I promised to write a review so here goes.
The first one was a beautiful box of Turkish delight. It was bigger than I expected it to be and in a wooden presentation box so perfect for presents. I'm not the biggest fan of Turkish delight but this had a good texture, not too gelatinous and the flavour wasn't over powering. They tell me it's handmade in Turkey so maybe that's why it's so yummy! Here is a picture of the Turkish Delight and also a
link
to their website.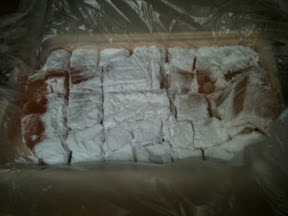 The second one was some tiddly caramel penguins. These little cuties would make a perfect sticking filler or (as I am going to do) a filling for crackers if you take them all out of the box and put one in each of my homemade crackers, much better than a set of screwdrivers in my opinion! And a great substitute for any friends and family who now want a baby penguin for Christmas after watching Frozen Planet.
Again here are some piccies and a
link
to the product.
In case you want to have a look here are all of their Christmas
chocolates
and here are their
stocking fillers
Enjoy!